Did you know dinosaurs went extinct more than 66 million years ago? But, movies, theme parks, and interesting, fun facts about dinosaurs leave preschoolers curious and wanting to learn more. Quench their thirst by experimenting with some fun dinosaur activities for toddlers. Who knows, your child is a paleontologist in the making.
20 Dinosaur Activities For Toddlers
Here are some fun dinosaur-themed activities for toddlers that can help them learn more about this extinct species.
1. Paper bag dinosaur
For this activity, you need some grocery brown paper bags, scissors, and some glue. Outline a dinosaur's face on the paper bags. Now ask the toddler to draw its eyes, mouth, and other details to give it a realistic look.
2. Dinosaur shape puzzle
For this activity, you need a sheet of paper. Cut pieces of paper into many small shapes of triangles and give each toddler a bunch of them. Now ask the toddlers to stick these little triangles together and form a giant dinosaur.
3. Dinosaur puppet
Give the toddler two socks of different colors. Ask them to draw four dinosaur eyes on a piece of paper and cut it out. Instruct them to stick it on both sides of the sock and then wear them on their hands. Your dinosaur puppets are ready!
4. Fingerprint dinosaur
Give the toddler a piece of paper and a few paint colors. Ask them to draw a dinosaur on paper using a pencil, and then fill in the outline with finger painting. For this, instruct them to dip their thumb into their choice of paint and then dab it on the paper.
5. Paper plate dinosaur
Distribute paper plates and ask the toddlers to cut them into two halves. Ask them to use the first half for the dinosaur's body and the other half for the tail and head. Now, glue all the parts together. Ask them to draw dinosaur eyes, teeth, scales using shades of brown and black.
6. Dinosaur mask
Take a paper plate and make the toddlers paint the convex side. Draw the eyes, mouth, and nose of the dinosaur. Cut out the eyes and punch holes at the two ends to attach a string for toddlers to be used as a mask.
7. Handprint dinosaur card making
For this activity, you need to give the toddler a sheet of paper and ask them to trace the outline of their palm on it. Now ask them to cut out two such outlines and stick them together in the form of a card. On the remaining paper, ask them to cut the shape of the dinosaur's head and neck and ask them to glue the neck towards one end and join the head. Let them use some colors to draw big dinosaur eyes, jaw, and other details.
8. Dinosaur handprint painting
For this activity, you need to instruct the toddlers to dip their palms into their choice of paint. Ask them to press their palms onto a plain sheet of paper. Now, the children already have the body of the dinosaur, which is the palm print. Ask them to paint the rest of the dinosaur by themselves, such as the spikes, neck, and head of the dinosaur.
9. Stick puppet dinosaur
For this activity, you need to take printouts of dinosaur images from the internet. Ask the children to cut out the dinosaur and paste it on a popsicle stick. Now the children have their own dinosaur puppets.
10. Dinosaur alphabet game
This is a great alphabet learning activity. Draw a big "D" on a piece of paper and ask the children to use that part as the body of the dinosaur and cut it out. Ask them to stick the cutouts of the dinosaur's neck, head, and tail that they have drawn to stick on the "D." Similarly, use all the letters of the word "DINOSAUR" as the body of the dinosaur and create dinosaurs out of each letter.
11. Perler beads dinosaur
Give the toddlers some Perler beads, peg, and tweezers. Instruct them to arrange the Perler beads into the peg forming a dinosaur. This is a group activity that encourages interaction and bonding.
12. Dinosaur clay modeling
For this activity, you need to distribute some clay amongst the toddlers. Ask them to form groups of four, and each member of the group shall make one part of the dinosaur, such as the head, body, tail, and neck. After each of them has molded the clay into a dinosaur part, they have to bring the parts together to form a dinosaur. This activity essentially improves fine motor skills.
13. Dinosaur songs
Toddlers enjoy learning through songs as it is engaging and easy to remember. Therefore, you can teach and recite some toddler dinosaur songs and nursery rhymes such as Dinosaur Stomp by Mother Goose Club Playhouse, 10 little Dinosaurs, and Dinosaur Stomp.
14. Playmat with dinosaur toy figures
Grab a dinosaur playset with a mat that looks like a map with mountains, rivers, trees and comes along with toy dinosaur figures. Ask the toddler to arrange their dinosaur park giving it a realistic look.
15. Dinosaur fossil kit
This kit by National Geographic contains the tools to excavate 15 fossils of dinosaurs. It is a fun dinosaur-themed activity where the toddler gets to explore and dig into the excavation for hours to find all the fossils.
16. Hinged dinosaur projection lamp
You can use an LED projector that brings glow-in-the-dark dinosaurs alive for this activity. Place these glow-in-the-dark dinosaurs at random spots in the room. Now, darken the room and project this light upwards. Now you will be amazed as the room gets filled with various dinosaurs. Don't forget to capture your toddler's excitement!
17. Dinosaur books
This could be a fun group reading activity. Ask the children to form a circle and sit down to read and listen to exciting dinosaur stories. Some of the best dinosaur books are "How Big Were The Dinosaurs?" by Lita Judge, "My Big Dinosaur Book" by Roger Priddy, "Dinosaurium- Welcome To The Dinosaur Museum" by Lily Murray.
18. Dinosaur jokes
You can teach the toddlers some short and funny dinosaur jokes that can crack anyone in laughter. For example: "Why didn't the dinosaur cross the road? Because there were no roads back then."
19. Dinosaur coloring book
This is probably an all-time favorite activity for toddlers. Give them a set of crayons and a dinosaur-themed book. Now, ask them to color inside the dinosaur figures. This will also allow them to explore various dinosaurs that existed.
20. Dinosaur dig
For this activity, you need to arrange some toy dinosaurs and dig in some plastic bones of different sizes and shapes into a sandbox. Give the toddler a toothbrush and ask them to use it to discover the dinosaur bones inside the sandbox. Once they find them, ask them to identify which dinosaur it may have belonged to, depending on the shape and size of the bone.
Aren't these dinosaur-themed activities for toddlers super fun? These activities also help children in improving their concentration, motor and sensory skills, and group interaction that is of paramount importance for toddlers to build healthy social relationships.
The following two tabs change content below.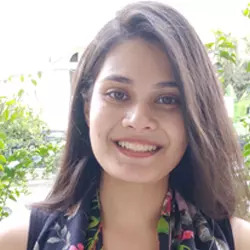 Manjari Srivastava
Manjari Srivastava is a graduate of psychology. She also holds certificates in Basics In Clinical Psychology and Identifying Early Signs Of Psychosis In Adolescents And Young Adults.  Previously, she volunteered with an NGO specializing in positive psychology, where she took up individual counseling sessions for students. She also taught English to underprivileged children and helped them with their studies. At MomJunction,…
more