Toddlers are actively learning and seeking to know more about their environment. While some parents believe that children should not have screen time at all and stick to conventional play, there are many useful apps that are not just fun for your toddler but have educational value too.
With regulated screen time, toddlers can be entertained through many learning, gaming, or puzzle apps!
Here are some of the best toddler apps that you could download to keep you toddler engaged.
20 Best Free Toddler Apps
While some learning apps can help your toddler learn new things, there are many others that feature fun games and puzzles. Here are some apps that are a must-have if you have a toddler at home.
1. Starfall ABCs
One of the first things your toddler learns is the alphabet. Starfall ABC is a popular app that offers reading, math, phonics songs, movies, books, and a lot more that enables toddlers to learn.
2. Peek-a-Zoo
Download: iOS
Peek-a-Zoo is a wonderful app to teach your toddler about animals, the sounds they make, how they look, etc. This app has a fun game-like interface that allows children to identify an animal by its sounds, actions, etc.
3. Fish School
Young children love animals, and fish swimming in the water is intriguing to their budding minds. Fish School app is a popular learning app for toddlers where colorful fish of different shapes, in different numbers and letters, swim in the water for toddlers to identify. This app is cool for toddlers, who will soon be attending preschool.
4. Baby Games
This is a fun learning app for toddlers and preschoolers as it teaches them about virtual balloon popping, musical instruments, and their sounds, etc. It features several mini games that are good for toddlers to learn about new things in the world.
5. Shapes!
Download: iOS
Toddlers who are around two to three years old can identify various shapes. The Shapes! game is ideal for them as it encourages them to learn and identify shapes and colors, different sizes, and a lot more.
Toddler Game Apps
It is normal for toddlers and young children to get distracted easily. Here are some game apps that are fun and educational:
6. PBS Kids Games
PBS Kids and its characters such as Tiger, Arthur, and others are quite popular with children. When these characters come together in the form of a game app, toddlers may have oodles of fun while learning plenty of new stuff too. With constant updates available in the app, new games are added regularly.
7. ABC Mouse
ABC Mouse app offers stories, games, and videos to teach your toddler how to read. It also introduces them to Math, Science, and art. This app is free to download and use for the first 30 days. Love the app? You can sign up for unlimited activities and games for a monthly subscription of $10/month subsequently.
8. Piano Kids
Download: Android
Children love music. It is a good idea to introduce them to musical instruments when they are a toddler. A fun way to do so is to download the Piano Kids app. The app allows your toddler to play various instruments and recognize the kind of sound they produce.
There are four modes that allow your toddler to learn sounds and music and improve creativity, motor skills, sensory skills, memory, and concentration.
9. ABC Spelling- Spell & Phonics
Another popular app from ABC for toddlers is the ABC Spelling – Spell & Phonics. This app offers multiple spelling games for toddlers with various game modes. While the app is free, it does offer in-app purchases for advanced features and more games.
10. Colors and Shapes – Kids learn colors and shapes
Download: iOS
Colors and Shapes – Kids Learn Colors and Shapes is a fun game app that allows toddlers to learn about object matching, colors, and more. The app has simple interactions on screen-touch and many additional features to make it enjoyable for your toddler.
11. KidloLand
KidloLand is an award-winning game app popular for toddlers. The app features games, learning activities, and stories that keep toddlers busy. An attractive feature of this app is that you can download games for your toddler to play offline as well.
12. ABC Kids – Tracing and Phonetics
Toddlers actively learn to speak and perform various activities than they were in their infancy. As your toddler grows older, teaching them phonetics, alphabets, sounds, etc., becomes important as they reach preschool age.
ABC Kids Tracing and Phonetics is a fun game app for toddlers as it allows them to trace letters and learn how to pronounce them.
13. Kids Balloon Pop Game
Download: Android
Kids and balloons are a fun combination. They are instantly attracted to these flying items, and some also love bursting them. The Kids Balloon Pop Game app is apt for toddlers and offers ad-free virtual popping opportunities for the toddler.
You can adjust the size and speed of the balloon based on your toddler's speed. This app has fun features and teaches your child alphabet, numbers, and colors.
14. Toddler Preschool Activities
Download: Android
The Toddler Preschool Activities app is a great option for parents looking for a game app with educational content for their toddler.
This app offers over 70 games and activities for toddlers and preschoolers up to the age of five years. From shapes, colors, animals, numbers, and alphabet, the app offers extensive learning in a game format, making it very engaging and interesting for your toddler.
The app is free to download, but the free version offers limited activities and games. Thus, you could opt for in-app purchases.
15. Kiddopia: Preschool Education & ABC Games for Kids
The best way to teach anything to a toddler is to mix fun with learning. One app that is great for this purpose is Kiddopia. This is a dynamic app that offers lots of subjects to learn – math to language and social skills! This award-winning game app also helps boost your toddler's creativity.
The app is available for free, but this version has a limited amount of content. If your toddler enjoys the game, you can purchase lifetime complete access with the in-app purchase option.
Toddler Puzzle Apps
16. Puzzle Kids – Animal Shapes and Jigsaw Puzzles
Download: Android
If you are looking for an exclusive app that has puzzles, Puzzle Kids is a great choice. The app offers a variety of drag and drop puzzles that are designed for toddlers. From matching shapes to guessing an object, these puzzles build your child's problem-solving skills and cognition and improve logical reasoning. The app is free and has no in-app purchases.
17. Super Puzzles Kids Jigsaw Game
Download: iOS
Super Puzzle Kids Jigsaw is a fun puzzle game for your toddler. The app allows you to choose the number of pieces you wish to have in your puzzle with its many settings. The app indicates when a puzzle piece is in the wrong place and produces a 'snap' sound when your toddler places a piece in its correct spot.
You can get around 18 puzzles for free when you download the app. If you wish to download more, the app allows in-app purchase options to help you.
18. Hidden Pictures Puzzle Town
Download: iOS
This is a popular puzzle app for toddlers with over 50 puzzles that are divided into various categories. The puzzles help toddlers learn math, problem-solving, sounds, shapes, and more.
While the app is free to download, it offers a 30-day free trial period. If your toddler loves the app, you can purchase a $2.99 monthly subscription to access new and updated puzzles each month!
19. Pango One Road
Here's a great puzzle for your toddler, where they are prompted to use their problem-solving skills to build a path to cross tiny islands while avoiding mole holes. The app offers over 70 challenges, and the difficulty level increases with each puzzle that your toddler solves.
20. Baby Shak Jigsaw Puzzle Fun
Download: Android
This puzzle app offers a wide range of colorful and fun puzzles for your toddler. You can choose the complexity level based on your toddler's skill. You can also choose puzzles from 4 to 16 pieces. The app is free to download but the free version may contain ads.
Keeping your toddler engaged and entertained might seem daunting. Fret not! Download these apps on Android and Apple app stores to let your child learn while having lots of fun. It is important to pick the right ones based on your toddler's age, learning, and interest levels. Are you ready to try a few?
The following two tabs change content below.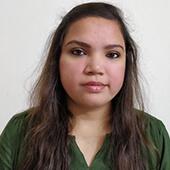 Harshita Makvana
Harshita is a graduate in commerce and holds a PG Diploma in Patent and Copyrights Law from NALSAR University. She has also pursued CA and has more than three years of internship experience in auditing. Her love for travelling has taken her to various parts of the world, and writing the travelogues was what brought out her love for content writing.Harshita's articles on MomJunction cover education, fun, and entertainment aspects of life for children. She specializes in presenting complex subjects in an easy-to-comprehend manner, and telling stories to children. In her spare time, she works on vegan activism, rescuing animals in need, and trying vegan delicacies.